Interesting articles updated daily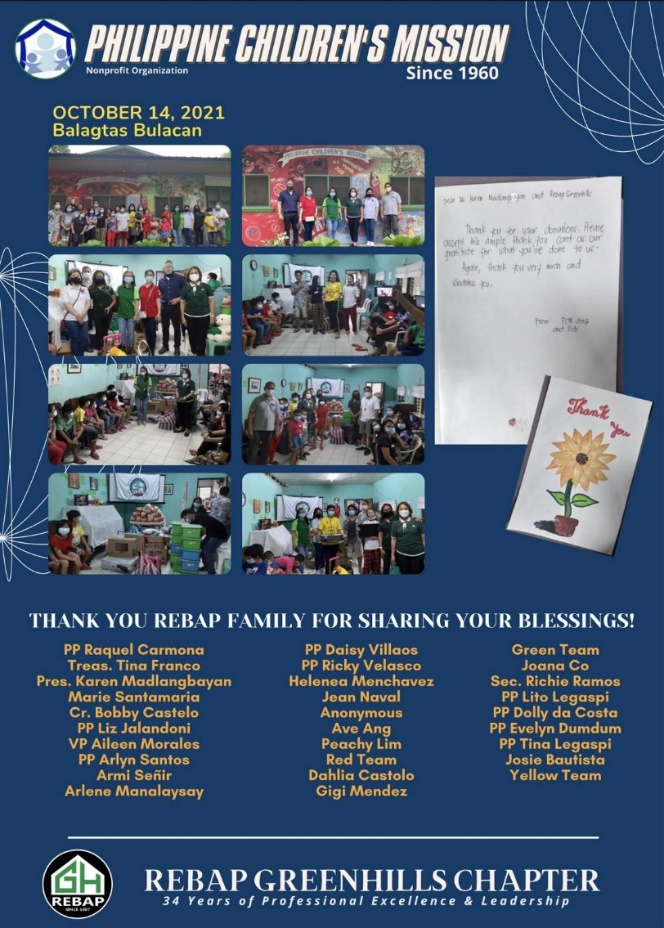 News and Articles
ADMIN, CAPTIVATE
Oct 12, 2021
2 views
Annual Corporate Social Responsibility 2021
REBAP Greenhills Outreach Program at Philippine Children's Mission

The 2021 officers of REBAP Greenhills brought an early Christmas to the Philippine Children's Mission (PCM) orphanage in Balagtas, Bulacan on October 14,  2021.

The children, with ages ranging from 7 to 21, were ecstatic to receive the boxes of hygiene kits, pajamas, slippers, food, toys and clothes. There was also a brand new personal computer and printer to boot. A Jollibee lunch treat completed the giveaways.

The goodies were purchased from the cumulative cash donation of more than 30 members of the chapter. There were also pre-loved items distributed to the children and the caregivers.

A short program was prepared by the kids, which included dance numbers, Bible verse recitation and thank you remarks from the Volunteer Manager, Mr. Ronnie Dellota, who is also a retired employee of Meralco.

PCM was initiated by the late Dra. Maria Dellota in the 1960s, who delivered and took care of the babies of lepers until they finished schooling. She started it when she was still single, and it was formalized into an institution with the help of American missionaries. To date, the foundation focuses on abandoned children and those born of parents with debilitating sickness.

The Greenhills officers of 2021who brought the goodies included President Mary Karen Madlangbayan, VP External Maria Lourdes Trijo, VP MIS Aileen Morales and Treasurer Tina Franco. Director Judy Dellota, who is also a volunteer administrator of the foundation, profusely expressed her gratitude for the kind heartedness of the GH Chapter. This outreach activity is part of the annual Corporate Social Responsibility goal of the Chapter.  

Earlier in the year, some members already donated their extra bed and sala set. PCM welcomes any type of donation all year round, especially in the form of tutorial services online.