Interesting articles updated daily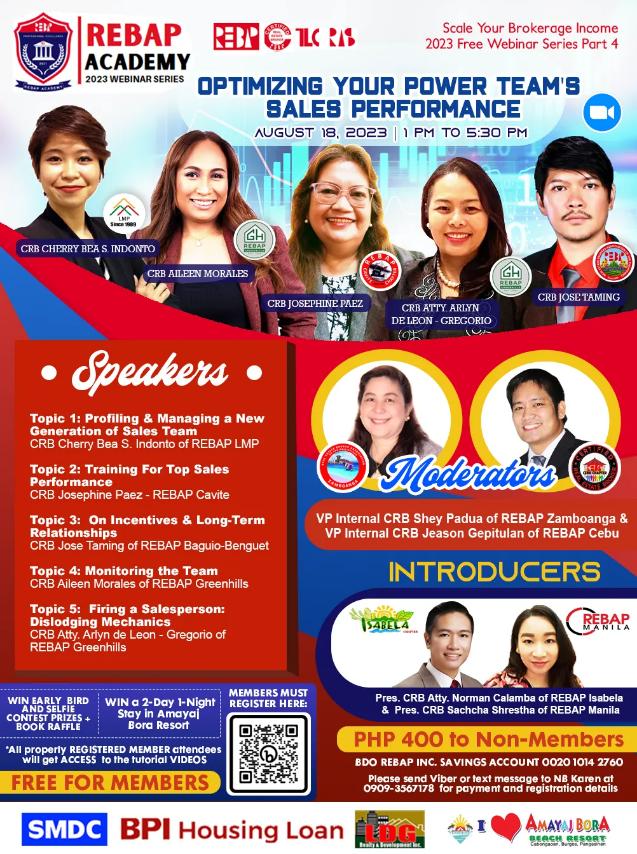 News and Articles
ADMIN, CAPTIVATE
Oct 12, 2021
2 views
Rebap Academy Webinar Series Part 4
We are excited to invite you to the 4th SEGMENT of the 2023 REBAP Academy Free Webinar Series titled "Scale Your Brokerage Income." This webinar will take place on August 18, from 1:00 pm to 5:30 pm on Zoom
The day's theme is "Optimizing Your Power Team's Sales Performance," and we have gathered esteemed  industry practitioners to tackle the following topics:

Topic 1: Profiling & Managing a New Generation of Sales Team 

Speaker: CRB Cherry Bea S. Indonto of REBAP LMP
Topic 2: Training For Top Sales Performance 

Speaker: CRB Josephine Paez - REBAP Cavite
Topic 3: On Incentives & Long-Term Relationships 

Speaker: CRB Jose Taming of REBAP Baguio-Benguet
Topic 4: Monitoring the Team ☎️

Speaker: CRB Aileen Morales of REBAP Greenhills
Topic 5: Firing a Salesperson: Dislodging Mechanics 

Speaker: CRB Atty. Arlyn de Leon - Gregorio of REBAP Greenhills
Our moderators for the event are:

VP Internal CRB Shey Padua of REBAP Zamboanga

VP Internal CRB Jeason Gepitulan of REBAP Cebu
The event will also feature introductions by:

Pres. CRB Atty. Norman Calamba of REBAP Isabela

Pres. CRB Sachcha Shrestha of REBAP Manila
In addition to gaining valuable insights from the webinar, registered attendees will have the chance to win exciting prizes:

ONE ticket to a 2-Day 1-Night Stay at Amayaj Bora Resort 

TWO best selfie cash prizes
THREE copies of the recently released book of Pres CRB Vincent Giananan entitled "REMviewer One"  will be up for grabs in the raffle
FOUR Early-Bird cash winnings!
Properly registered REBAP MEMBER attendees will also get access to the video recordings of the webinar.

Members should register at:  https://forms.gle/ZQeAWadxBRVYeA257

Non-members must pay PhP400 at BDO Savings Account 0020 1014 2760 and register at: https://forms.gle/gX4PCzcKjezedfEC7

For inquiries, please contact NB Karen Madlangbayan at 0909-3567178.
Additionally, brace yourself for surprise acting performances from some chapters! 

Learn, earn, and get lucky! Save the date, CRBS! ⏰

Sincerely yours,
REBAP National